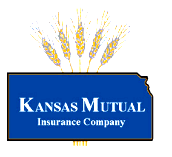 Kansas Mutual Insurance Company has been committed since 1895 to providing quality insurance products to Kansas citizens. Working through the independent agencies such as Joe McGuire Insurance, we pledge to provide prompt policy handling, fast and fair claims service, and to continue to be a strong, sound organization to protect you, our Policyholder, in the 21st Century.
---
Homeowners
Kansas Mutual provides options for almost any type of Homeowners need. There are two Homeowners programs available. The Deluxe Homeowners program is for newer dwellings and contains a plethora of special coverages all packed into one policy at a very attractive price. The Standard Homeowners program has a niche for almost any type of residence. From All Risk replacement cost policies to Actual Cash Value coverage on lower value dwellings to renters insurance, this program has many options available for a wide variety of needs.
Town Dwelling
This program provides coverage for rental properties, the contents in them, and the liability coverage a landlord needs. A very competitive Builders Risk program is available under this line also. Homeowners and Contractors alike have found this to be a quality option for their insurance needs.
Farm Protector
Kansas Mutual began as a farm company over 100 years ago. Today, thousands of Kansas Farmers still rely on Kansas Mutual for their farm coverage needs. For farm dwelling insurance, farm equipment, livestock, farm buildings, and farm liability insurance, many farmers choose Kansas Mutual for their needs.
Mobile Homeowners
Currently our fastest growing line, the Mobile Homeowners program provides very reasonably price coverage for owner-occupied mobile homes. Combined with top coverage, this is the program you need for your Mobile or Modular home!
Other Lines
Kansas Mutual also offers a Business Owners program for some commercial exposures, as well as Inland Marine coverages for special personal property items.